THE ETTER ART ALCOHOL INKS
Rich colors, impressive color gradients or bubble techniques.
Our Etter Art ALCOHOL INKS are suitable for many techniques and tailored to you.
Whichever option you choose: Our Etter Art ALCOHOL INKS ensure expressive art with their impressive luminosity!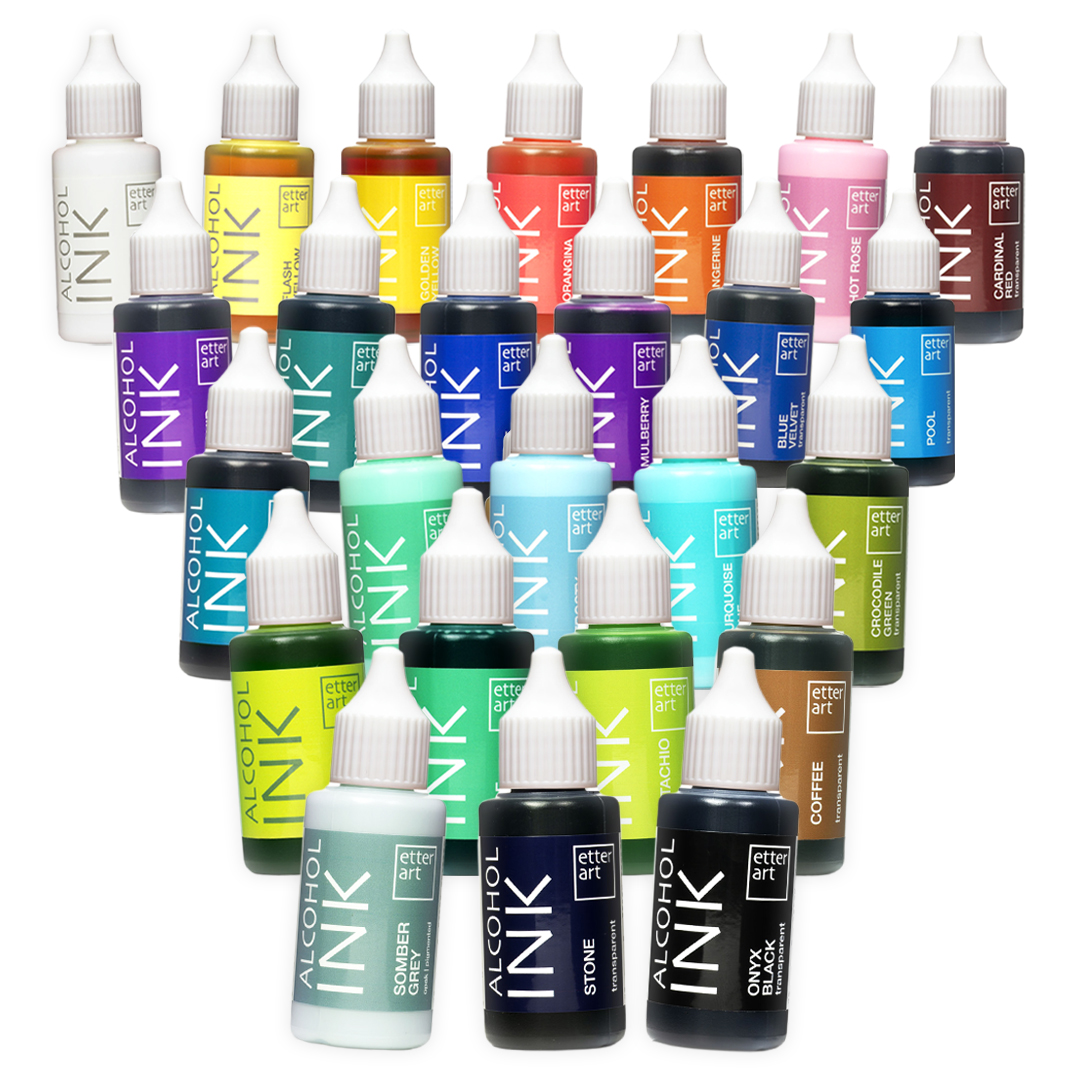 Etter Art ALCOHOL INK in 27 Colors
OUR ETTER ART ALCOHOL INKS That's them. Discover the fascinating artistic possibilities that our alcohol inks offer you. Create impressive color gradients with fluid painting techniques. Paint realistically or abstractly. Combine the Alcohol Inks with various creative techniques. Apply neat or dilute with isopropanol. Conjure up exciting effects with tools such as a hair dryer, sponge or brush. Mix them in resin. Create with strong colors or pastel tones, transparent or opaque. Working with alcohol inks is so diverse that once we get started we can't stop raving about it. Does that sound familiar to you? Then feel welcome here in the Etter Art Shop and choose your favorite Colors. That's what they are for. The Etter Art alcohol inks are suitable for the design of color gradients, mixed media such as hand lettering or scrapbooking, alcohol ink bubble techniques or for setting accents in your artwork. Resin can also be colored with the Etter Art Alcohol Inks. In addition, you can easily work with resin jewelry, coasters, paperweights or similar objects. The Etter Art Alcohol Inks can be used on glass, ceramics, porcelain, metal, stone or specially coated paper. Whichever option you choose: our Etter Art Alcohol Inks ensure expressive art with their impressive luminosity. Measuring, mixing and processing the Etter Art Alcohol Inks 1.) Mix clear resin. MASTERCAST 1-2-1 works best for this. 2.) Pour some of your clear resin into a mixing cup. You can mix in the Etter Art Alcohol Ink. 3.) There are also various possible uses: painting from the bottle, dripping from the bottle, applying to the painting surface with a brush, dripping onto isopropanol, spreading with tools, waving the painting surface. 4.) There is also the option of dripping the Etter Art Alcohol Inks onto resin or mixing them into paints. (Only transparent or opaque inks among each other). Particularities. • Fast-drying alcohol-based metallic paints with dyes. • Specially developed for fluid painting techniques. • High and constant luminosity. • Smudge and water resistant (not suitable for the dishwasher) • Acid-free inks. • Can be liquefied with isopropanol and wipe off without residue.
Content: 30 Milliliter (€27.33* / 100 Milliliter)