OUR ETTER ART CHAMELEON PIGMENTS
Our new Etter Art chameleon pigments show - as the name suggests - not just one color.
Depending on the light, you can discover a whole range of colors!
The chameleon pigments convince with a spectacular color change that gives your work of art something unique.
Chameleon Pearlescent Pigment Powder Chameleon 5 g
THE ETTER ART CHAMELEON PEARLESCENT PIGMENT POWDER That's it. Our Etter Art Chameleon Pearlescent Pigment Powder is the star among powder pigments because it draws everyone's attention and amazes everyone. Like a chameleon, it changes color and creates magical Moments. The shine of our pearlescent pigments is fascinating. You use it to create the shiny effect that is familiar from pearls or mother-of-pearl. The pearlescent pigments are lightfast mica. In a complex process, thin mica flakes are coated with titanium dioxide and iron-III-oxide. Decorate your surface with it or mix it with opaque colors to create a shimmer. You can also mix the pearlescent pigments with each other to create new colors and shades. Particularities. • None of the 16 most common food allergens. • No substances from genetically modified sources. • No ingredients classified as carcinogenic, mutagenic or toxic for reproduction according to the CLP regulation. • No animal components as they are made from mineral materials. • No use of nanomaterials and asbestos or materials containing asbestos. • No animal testing
Content: 5 Gramm (€198.00* / 100 Gramm)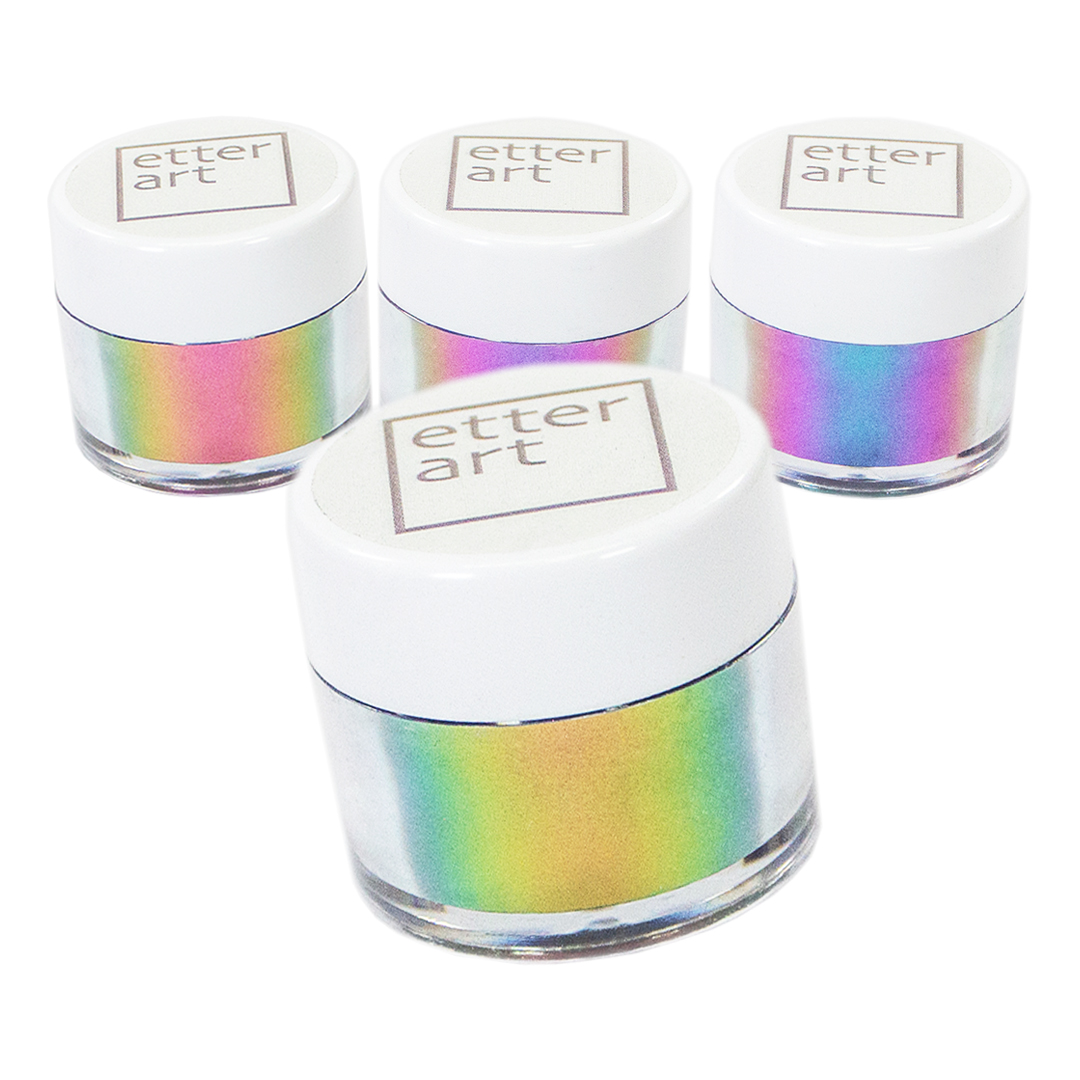 Chameleon Super Pigments in 4 Color Combinations
THE ETTER ART CHAMELEON PIGMENTS IN 5 COLOR COMBINATIONS That's them. Our new super Chameleon pigments show - as the name suggests - not just one color. Depending on the incidence of light, they show a whole range of colors. The pigments convince with a spectacular color change, a very high yield and extreme UV resistance. They are ideal for use with resin and give your artwork that certain something. With the Mona Lisa, your eyes follow you, with our pigments they change color depending on the viewing angle of the work of art. Particularities. • None of the 16 most common food allergens. • No substances from genetically modified sources. • No ingredients classified as carcinogenic, mutagenic or toxic for reproduction according to the CLP regulation. • No animal components as they are made from mineral materials. • No use of nanomaterials and asbestos or materials containing asbestos. • No animal testing